The Easy Way to Set a Gorgeous Holiday Table
Be inspired by these Christmas table setting ideas and find out the easy way to set a gorgeous holiday table!
The holidays may or may not look different for many of us this year… But however large or small the party, I know gathering for a meal is one of the greatest highlights of our holidays. And easy, beautiful Christmas table decorations can help make that special!
So I'm excited today to share simple Christmas table decorations along with some of my favorite blogger friends. A special thanks to Bre for organizing this! Be sure to scroll down to see everyone's beautiful holiday table decoration ideas below.
A Simple yet Elegant Christmas Table
If you've followed me for very long, you know that my sweet spot is when beautiful, functional, and simple all meet. And if you're new here, just imagine an over-achieving homeschooling mother of four – the epitome of perfectionism meets pragmatism. 😉
So when I was setting this year's holiday table inspiration (in between proctoring spelling tests, visiting a park for some bike riding, and hopping on a zoom call for a client's kitchen design), I decided you all might like some speedy and easy tips for creating your own gorgeous table whatever else you may have going on.
This post contains affiliate links. Click here to read my full disclosure.
7 simple steps to a gorgeous holiday table
See how easy it can be?!
Start with a tablecloth
I've done many-a fun tablescape without a table cloth, but there's something about a tablecloth that immediately elevates the table. And I think Christmas is the perfect time for something a little special.
You don't have to be limited to your grandmother's tablecloths, though. I've used sheets, turkish towels, and fabric scraps over the years, too. Of course, if you have a beautiful tablecloth that formally belonged to your grandmother, more power to you.
This is just a long piece of coarsely woven cotton (similar to cheesecloth) which I originally got for my outdoor Thanksgiving table. Since I didn't want to cut it, I tied the excess over out of the way with some pretty velvet ribbon.
Choose a ribbon
Speaking of ribbon, it's currently my favorite holiday decorating accessory. I love how you can remake your holiday decor each year with the simple purchase of a spool of ribbon. It provides texture, elegance, and a new color scheme if desired.
This year, I used this dark green velvet ribbon as simple garland on our small tree (if this one is sold out in green, check out below where I've linked some similar ones!)…
GET THE LOOK:

And to make these adorable little ornaments with these gold bells on the big tree.
For your table, you can use the ribbon to tie the table cloth, if needed. Or to decorate the backs of your chairs or a wreath on the wall. Or, as you'll shortly see, you can tie your napkins into lovely little gifts.
Set your places
I used dinner and salad plates (I mixed our sturdy white dinner plates with two different vintage China patterns for salad plates – my grandmother's and my own – just for fun). I then added some vintage crystal goblets and this gold flatware.
GET THE LOOK:

I like to set the places before I decorate the center to ensure that there is plenty of space for the actual dining. Food is priority in this house. 😉
I then topped them all off with napkins tied up sweetly with little bells: half these vintage looking ones and have more traditional sleigh bells. You could also use a small ornament for this instead. Either way, it makes for such an easy yet sweet little fancy touch to add to your table.
Lay garland as your centerpiece
Garland table runner Christmas decorations are perfect because they're festive, easy, and they don't block the view of others around the table. It's my secret favorite way to make a quick, beautiful dining table.
This magnolia garland table runner also has pine cones, which adds some nice texture… but any holiday garland can work!
Add candles
Once you've draped your garland across the table, add some height and sparkle with candle holders. Candle centerpieces bring all the cozy magic for celebrating the holidays.
For this table, I added height with my favorite brass candlesticks and tapers, and I added extra sparkle with these little green votive holders.
GET THE LOOK:

Sprinkle ornaments
Remember the sleigh bells I used for my napkins? I sprinkled a few more around the garland and candles for a little extra cheer. Small ornaments or bottle brush trees would be beautiful, as well!
Layer an extra holiday touch
The dinner table now looks beautiful, but the room as a whole will feel more like a winter wonderland with at least one other festive home decor touch. In years past, I've brought in Christmas trees, added wreaths, and decorated the side board.
But this year, I kept it super simple by just adding a string of regular ol' Christmas lights to the faux olive tree in the corner. It doesn't take much, and it ties that space with the other decorated rooms!
Like I said, simple and beautiful. 🙂
GET THE LOOK:

More Christmas table decorating ideas
Now don't forget to pin this for later…
And be sure to visit my friends below for more inspiration and Christmas decorating ideas this holiday season.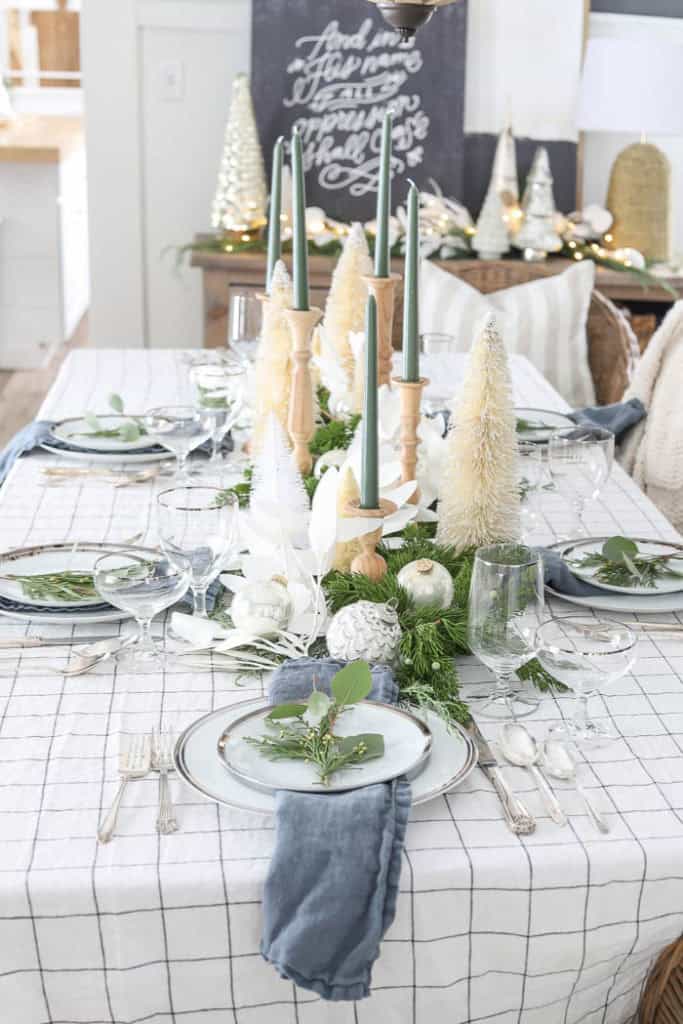 Festive Christmas Tablescape | Rooms for Rent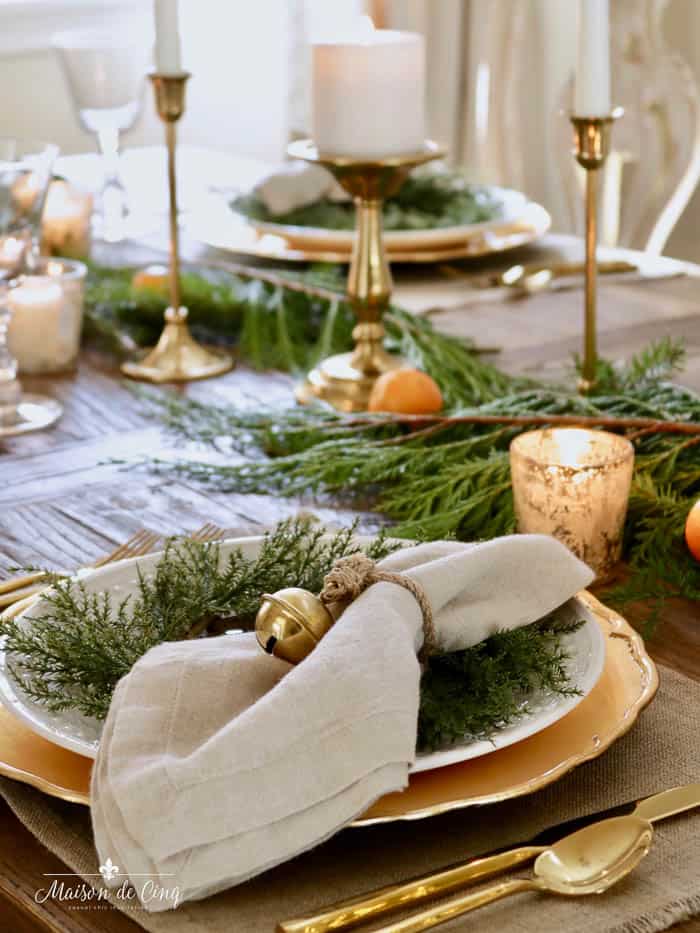 Cozy Holiday Tablescape | Maison de Cinq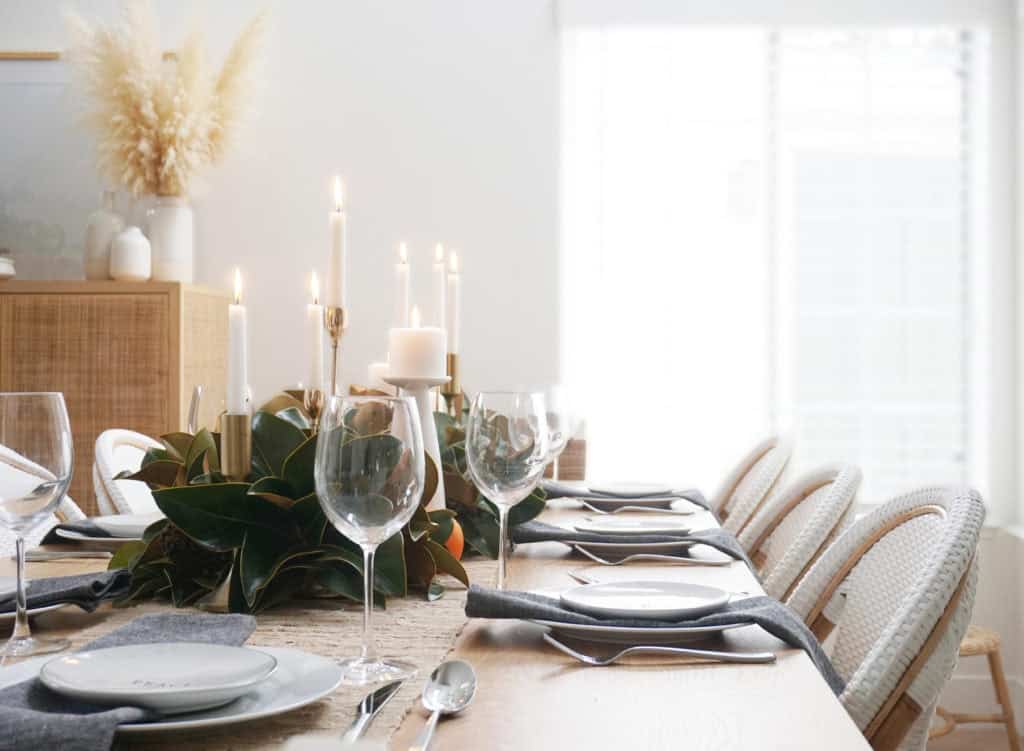 Special Christmas Table| Almafied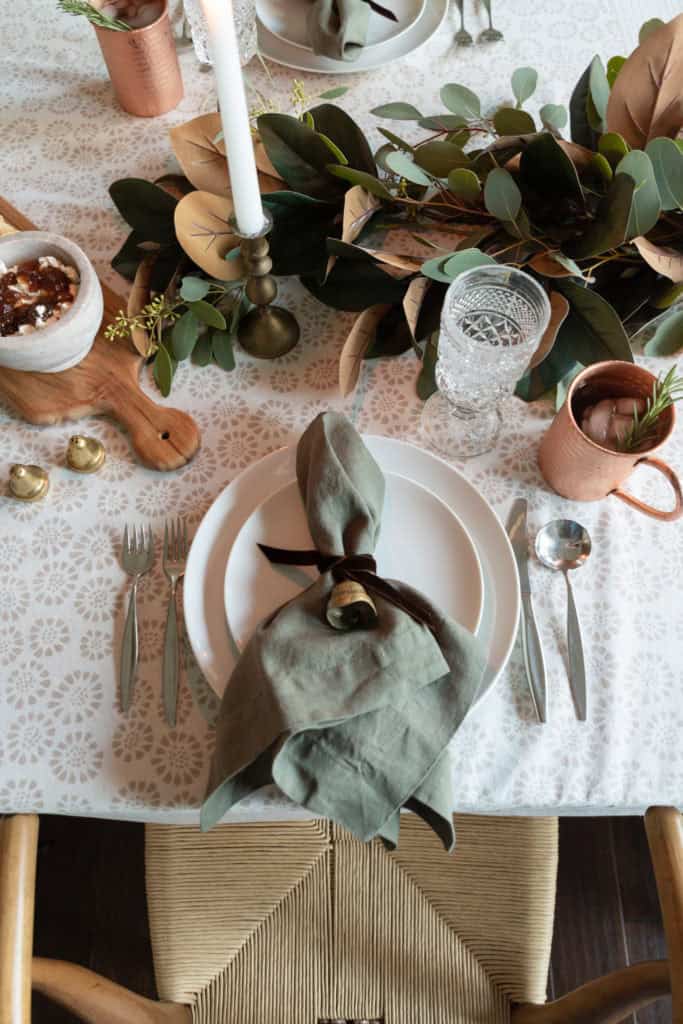 Nature Inspired Christmas Table | Crazy Wonderful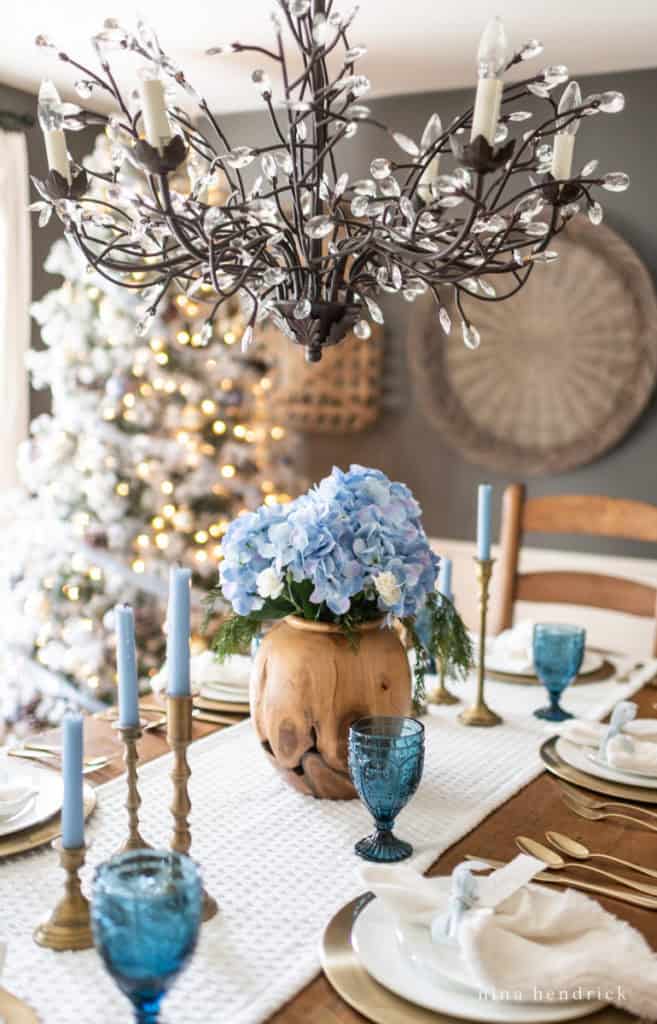 Simple Blue Christmas Tablescape | Nina Hendrick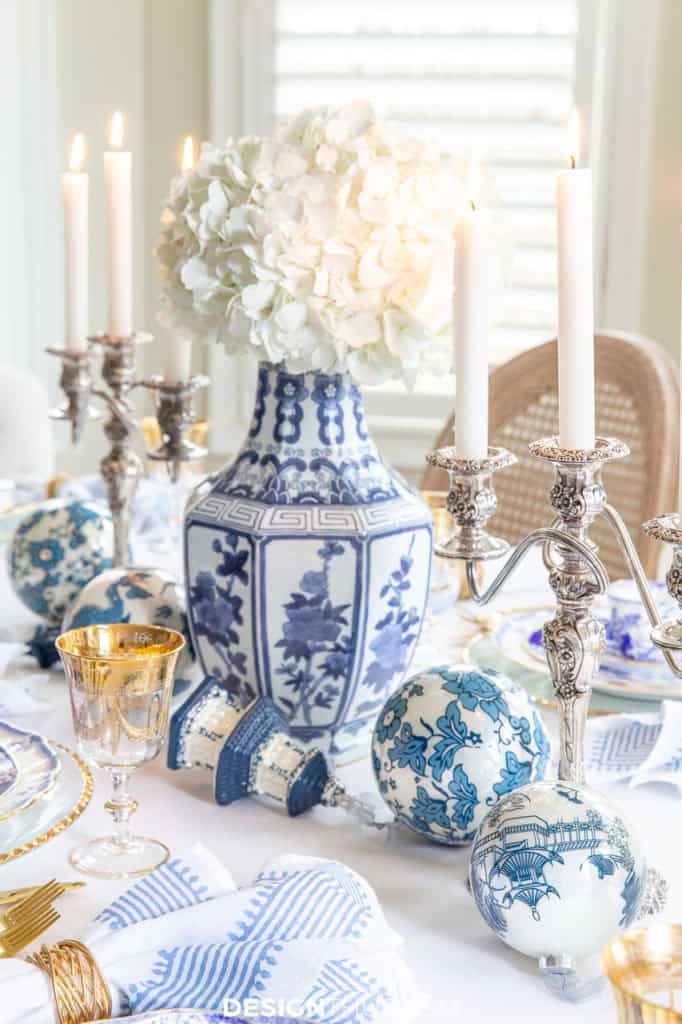 Blue + White China Christmas Table | Designthusiasm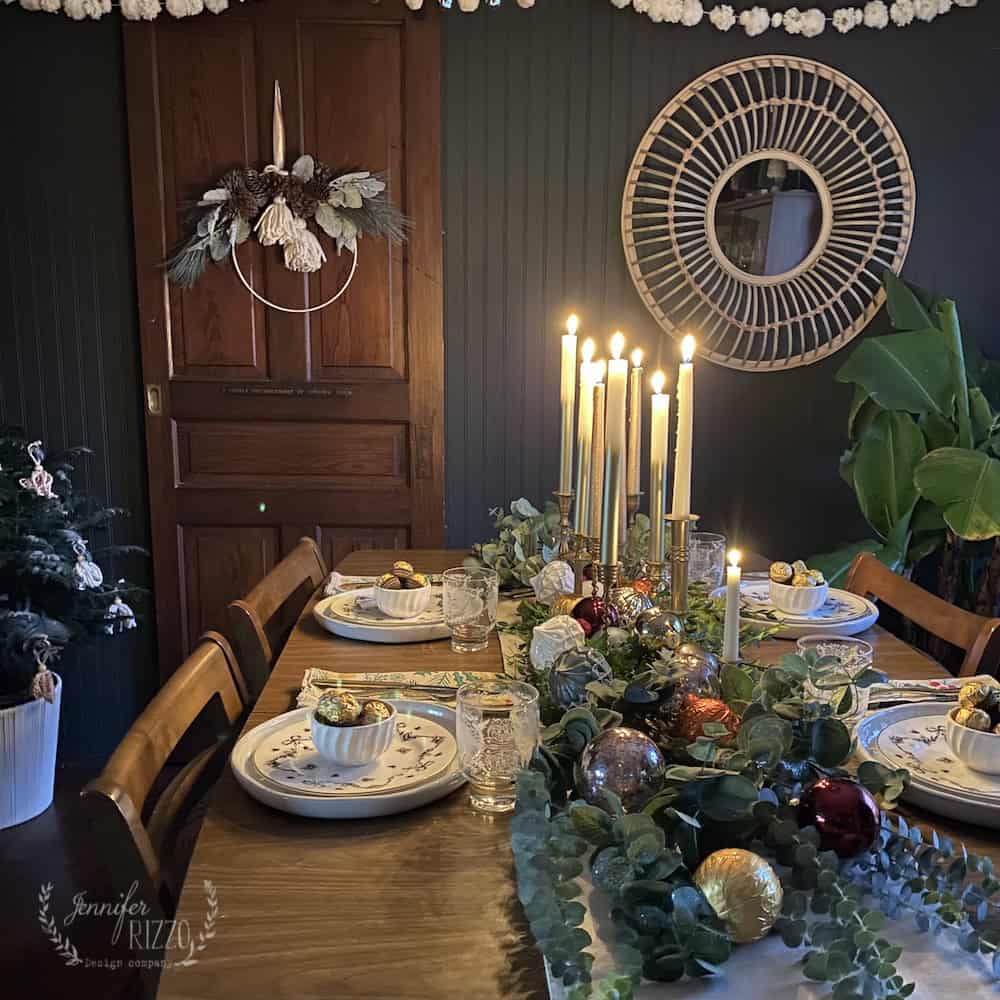 Holiday Housewalk Tablescape | Jennifer Rizzo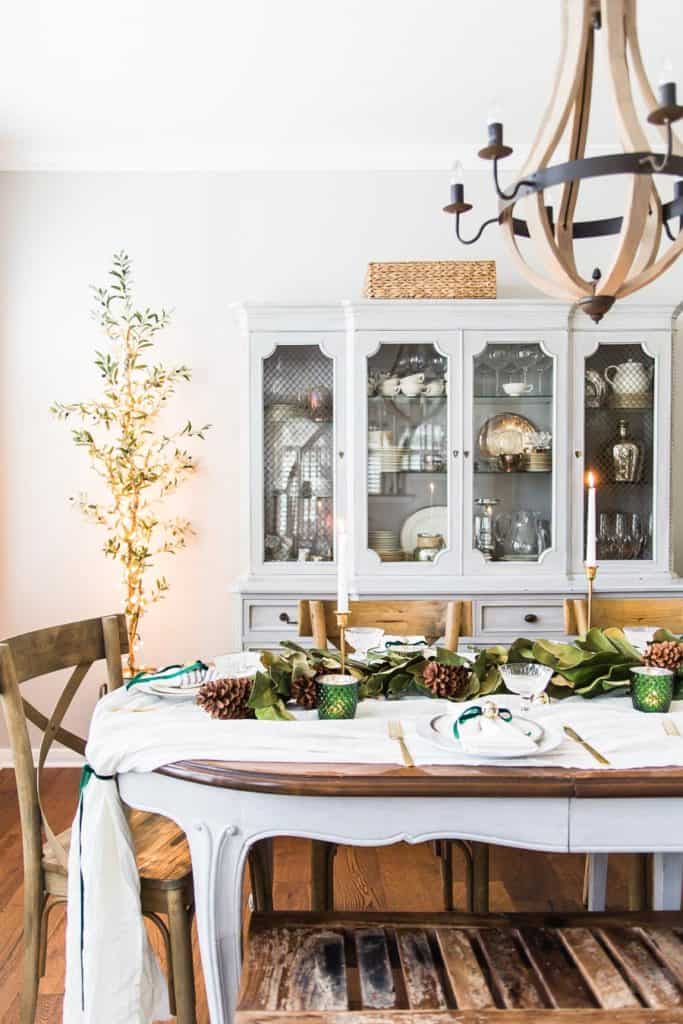 Easy Holiday Table | Maison de Pax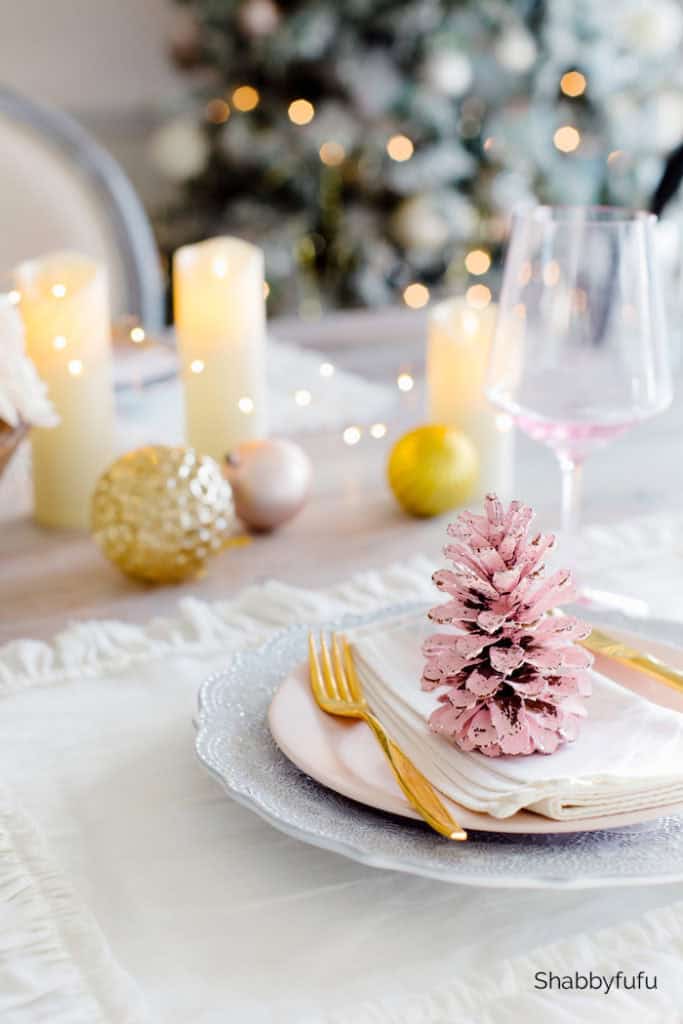 A Small Holiday Get-Together | Shabbyfufu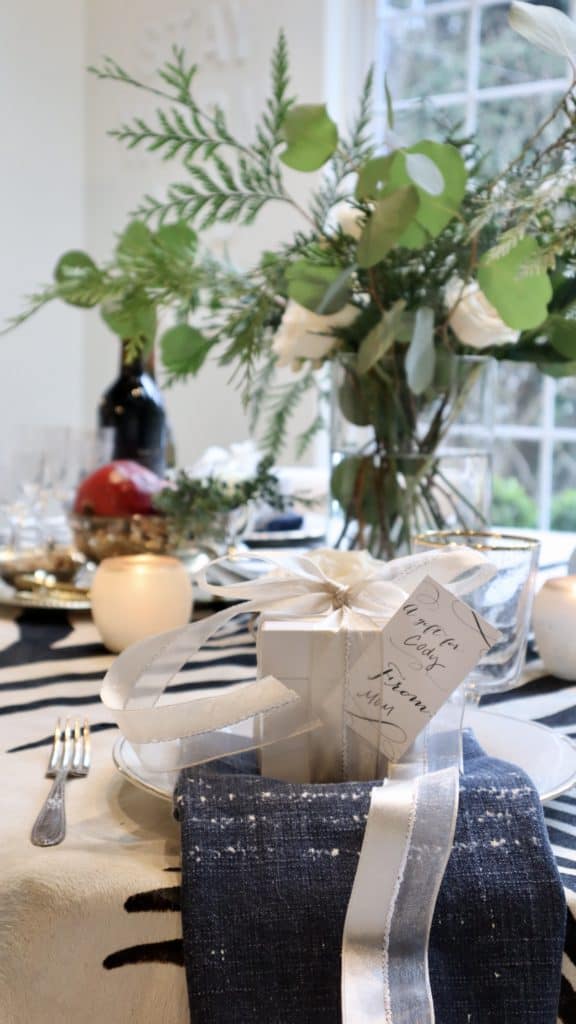 Layered Holiday Tablescape | My Sweet Savannah