Industrial Rustic Master Bath Retreat
Thank you to Lowe's for sponsoring this post. As always, thoughts and opinions are my own.
5 bloggers.
48 hours.
2 barn doors.
1 eight-month pregnant lady.
20 chandelier crystals.
And plenty of Tex-Mex food.
All that plus a lot of sweat (and a few tears) equals one glorious master bath retreat.
But let me start from the beginning. Earlier this year, Lauren of Bless'er House put out the call for applications for a makeover sponsored by Lowe's. While there were so many spaces submitted with so much potential, we landed on a sweet young couple's builder-grade master bath that had some good bones.
The homeowners are so lovely, but their 10-year-old builder grade home was lacking the character they wanted. Plus, the 10 years since it had been built also meant it was time to replace a few things, like a rusted shower door and some outdated fixtures.
So five bloggers (and one hubby) converged upon a little town in Texas ready to tackle the makeover. Lauren and her husband Robert headed the team, with Lauren's gorgeous design guiding our makeover and Robert's manual labor and plumbing skills carrying us along. Oh, and Robert definitely provided some essential comic relief. 😉
Nina of Nina Hendrick Designs, Jenna of Rain on a Tin Roof, and April of House by Hoff painted, replaced light fixtures, reframed mirrors, and more.
And yours truly (who was 8 months pregnant at the time) built an 8 foot barn door and assembled two barn door tracks. Felt a bit like Superwoman, I gotta admit.
We six are not professional contractors, so we certainly did not rip out the old bathroom and start over, but sometimes all a space needs is some cosmetic changes to bring it to life… And with paint, creativity, and a few easy building projects, this bathroom graduated to an elegant retreat in no time.
Well, ok, in exactly 48 hours. Give or take. 😉
I will list all the sources at the bottom of the post, but here's a rundown of what we did to the space. We painted the walls Sherwin Williams Gray Screen to give it a soothing atmosphere.
We painted the vanity Sherwin Williams Slate Tile to add some color and give it more of a furniture-piece look.
We replaced the outdated lighting above the vanity with the Portfolio Weathered Bronze 3-Light Bar…
And hung the Quoizel Unison Imperial Bronze chandelier above the tub. An elegant yet industrial touch – just the merging of masculine and feminine perfect for a master bath.
We framed the mirror above the vanity with simple pine boards that we stained using Rustoleum Dark Walnut. A touch of stained wood brings that rustic element and texture to space.
We replaced the vanity hardware with Rusticware 5-in Oil Rubbed Bronze pulls to match the subtle industrial look.
And we swapped out faucets throughout the bathroom for the same effect, using the Pfister Arlington Tuscan Bronze faucet on the sinks and the Pfister Tuscan Bronze rain shower head.
We freshened up the floors by painting the grout with Valspar Duramax in the color Du Jour.
And we updated the water closet by removing the cabinet door and painting the back to match the vanity.
Speaking of the water closet, it was formerly open to the rest of the bathroom, but a barn door was the perfect solution to providing a bit of privacy. The opening was especially tall and narrow, so we built a custom door and hung it from a header with a sliding track.
To complement that barn door and avoid banging into it with the bathroom door, we removed the original door to the space and replaced it with a pre-made barn door kit: the ReliaBilt Z-frame Soft Close Pine Sliding Barn Door. The door came unfinished, so we stained it with Minwax Weathered Oak and sealed it with polyeurathane to protect it from the bathroom's moisture. Hung on a sliding track outside of the bathroom, it blended the design of their new bath with their master bedroom.
Finally, we added tons of decorative touches. These 4-Piece Framed Garden Prints offer some soft, feminine lines to complement all the more industrial and rugged features.
More florals and faux succulents bring life into the space.
Apothecary jars and baskets help to store bath essentials.
And we can't forget functional extras like towel hooks.
Looking back, I can't decide if the 48 hours felt like 4 or 400… It was exhausting (at 8 months pregnant nonetheless!), but the result was so worth it.
Love what you see? Hover your mouse over the images below (or tap on mobile) for direct links to some sources!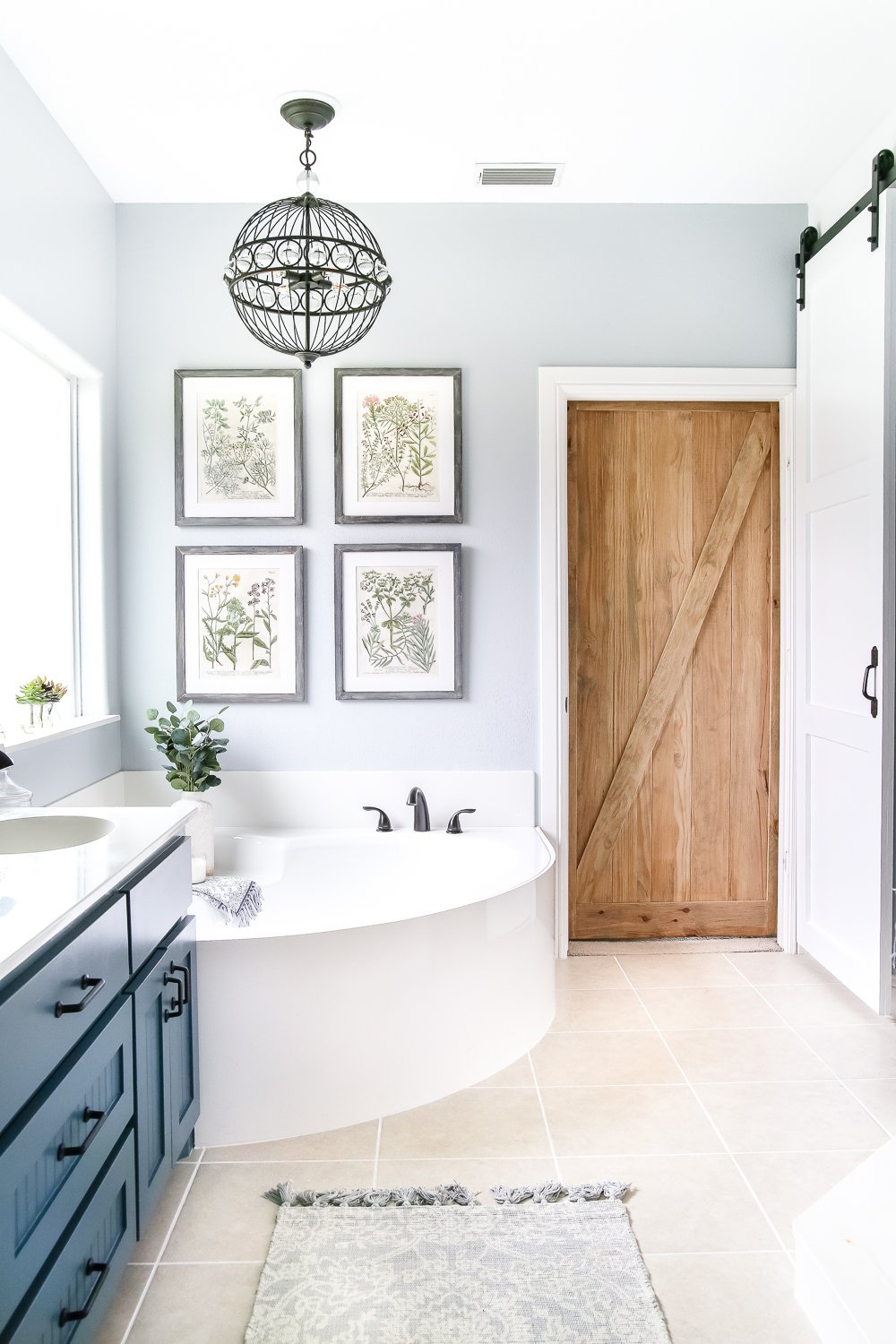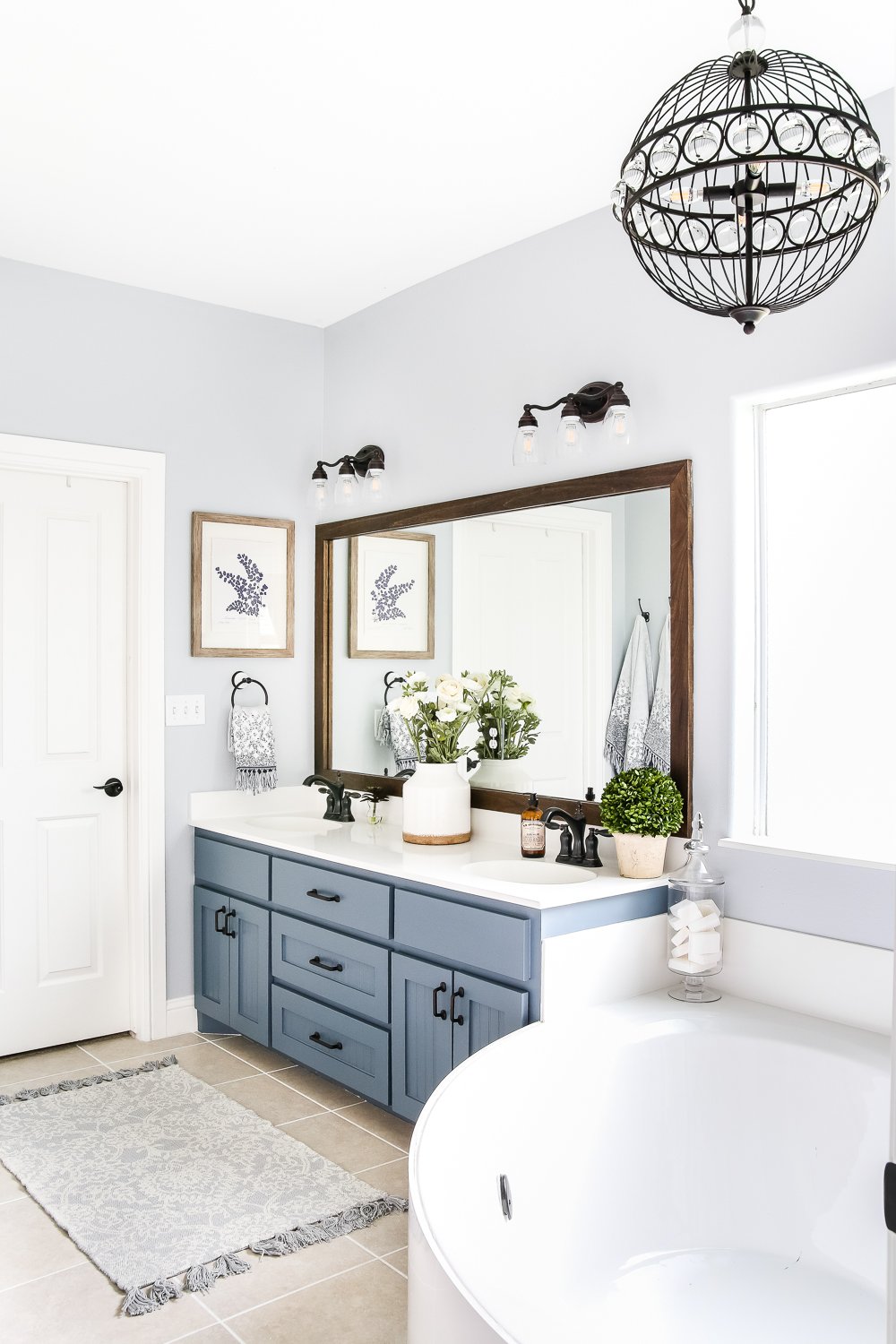 And here is a complete source list to help you achieve this look.
Wall Paint: Sherwin Williams Gray Screen

Cabinet Paint: Sherwin Williams Slate Tile

Grout and Barn Door Paint: Valspar Du Jour

Mirror Frame Stain: Minwax Dark Walnut

Barn Door Stain: Minwax Weathered Oak
Thank you again to Lowe's for sponsoring this makeover, to the homeowners for trusting us with their space, and to my fellow bloggers… Go team!