Texas Hill Country Beauty
Tour our Texas Hill Country beauty
If you've been following me some time, you know that it was almost exactly a year ago that we left our beloved 1940 colonial in the city and headed out here to the Texas hill country.
Now let's be clear, I'm only about 20 minutes from downtown Austin (when there's no traffic, which is almost never 😉 ), and our 1994 home can hardly be called quaint or rustic (see our summer home tour here if you're interested)…
But I am thoroughly enjoying being surrounded by much more natural beauty than was provided in our former city life.
Don't get me wrong, Austin has so much city life to offer: music, shopping, restaurants, and more… And while we enjoy taking advantage of it all (as much as we can with three little ones who go to bed by 7:30), it's the beauty of the Texas hill country that captures my heart. So I'm excited to share today as part of the Southern Road Trip tour my incredible history with this place.
First of all, as the only representative of Texas on this tour, let me say that we don't all ride horses everywhere, many of us actually talk way too fast though we do say "y'all" in about every other sentence, and nobody outside of this state can really understand Tex Mex food. And yes, a large portion (and I mean VERY large portion) of this state is flat, hot, and dry…
And then there's the hill country.
My history with this area actually began almost 75 years ago when my great grandparents bought a little piece of property on a tiny lake about an hour outside of Austin.
Deer Lake was part of my mother's childhood. She spent a month here every summer (even after they moved to Argentina): sleeping on the screened porch, lounging in the water, creating and performing plays on the large stone hearth in the small log cabin… it formed her.
That's my mom there in the foreground on a visit she made during college. For the record, this photo is about 45 years old and – if you know my mother, then you know – she looks exactly the same to this day. #goodgenes 😉
Eventually, my own grandparents retired in the area. My great aunt and uncle kept the place on Deer Lake, and my own rehearsal dinner was held on the lawn just outside that very same screened porch where my mother had slept so many warm summer nights.
Fast forward 12 years and Mr. Pax and I took a job opportunity in Austin. Though it was hard to leave the old fixer upper we had, well, fixed up as well as all the family and friends we had back in Houston, we couldn't resist the call of the hill country.
It may be 100 degrees out here this week, and it may not actually be heaven on earth… but when you see this as you walk out your front door, I definitely think it must be a tiny taste of it.
Now for more Southern fun… Be sure to visit the other places on our road trip, starting with Atta Girl Says in Greensboro, NC!
THE GREAT SOUTHERN ROAD TRIP ITINERARY
Southern State of Mind {Atlanta, GA} | Restless Arrow {Belton, SC}
Southern Hospitality {Marietta, GA} | Our Southern Home {Caswell Beach, NC}
TUESDAY ROUTE: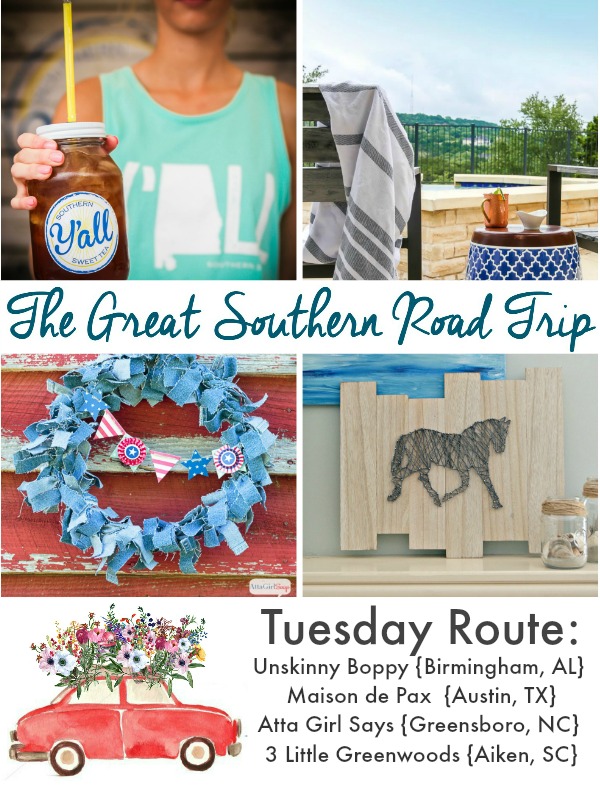 Unskinny Boppy {Birmingham, AL} | Maison de Pax {Austin, TX}
Atta Girl Says {Greensboro, NC} | 3 Little Greenwoods {Aiken, SC}