Well, friends, we've finally bitten the bullet and are having our HVAC system replaced.  It's all the first step toward building out our attic space.  Wahoo!  Of course, we're tackling this while our laundry room is torn up (if you've been following me on instagram, you've seen some of the disaster progress).  Plus, we've got grand plans for a facelift on the kitchen… not to mention the nursery I've got to have ready by May.  We're so good at setting reasonable goals, aren't we? 😉
No, really, I'm so excited about all the projects we have going on.  And, in honor of that spirit, I want to send a shout out to some fabulous DIY divas this week!  I love a good knock off or craft or decor DIY, but there's nothing like a true renovation-level DIY to really reach that sense of accomplishment; am I right, ladies?
So… first up you have to see this beautiful and functional mudroom unit done by Anna at 
Home Heart and Hands
:
You can't miss this stunning planked nursery ceiling by Charity over at 
Our Pemberley
:
And last, but not least, Abbey over at Chapter 37 truly transformed her staircase with a little LOT of paint:
Kudos to all of you, ladies.  DIY home projects are so much work but oh-so rewarding. I hope you're enjoying the fruits of your labor!
Don't forget the most viewed link this week, as well:
And come back tomorrow to link up!
Please grab a button if you were featured!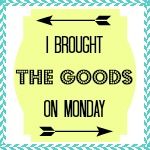 Did you enjoy that?
Have my best tips on home decor, DIY, and life delivered directly to your inbox.