It's Sunday and time for Give Me the Goods Sunday Features!  Remember, FIVE hostesses means five times the exposure and five times the chance to be featured.  So please, come back tomorrow morning at 7am EST to link up!  Remember, each hostess will be picking her own features, so check out my co-hostesses, too, to see if YOU were featured!
Sweet Christine at The DIY Dreamer is asking for ideas on My Kitchen Needs a Makeover.  Drop in and help her out if you haven't already!
And now…
I love this sweet blue Family Buffet by Living Better Together.  And you must read the story about it!
Don't miss Vintage Prairie Style's beautiful Living Room and reminder that sometimes less is more.
And, because I can't ignore the season completely (and because these are awesome!), check out Poor Sophisticate's DIY Industrial Pumpkins.
Please grab a button if you were featured!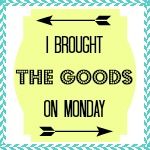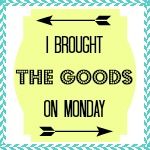 And be sure to come back tomorrow to link up your goods!
Did you enjoy that?
Have my best tips on home decor, DIY, and life delivered directly to your inbox.